Oh Deer!
Find this article at:
go.ncsu.edu/readext?609449
White-tailed deer are a pest even in urban areas. Despite our best efforts, deer do damage to landscape plantings eating trees, shrubs, vegetables, and flowers munching on seedlings, tips, buds, branches, and foliage.
Two common questions are: "What can I plant that deer won't eat?" and "How can I stop deer eating my plants?". The unfortunate, but accurate answer is that, if deer are hungry enough they'll eat what is available and repellents, fright devices, and inadequately constructed physical barriers will not prevent that. But, there are a few strategies that can affect whether or not the deer in your neck of the woods see your site as "easy pickin's". With persistence and a mix of approaches, you can get a landscape that works.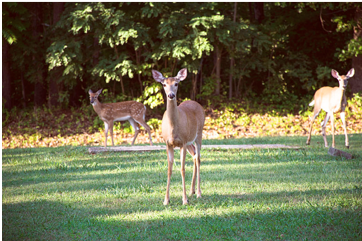 First, rethink your site with a cultural management perspective beginning with plant selection. Plants with sticky or hairy leaves and stems and foliage with a lemony or minty fragrance are less attractive to deer. Place these as garden borders to deter deer.
Just as poet Robert Frost contemplates his neighbor's advice, "Good fences make good neighbors", perhaps our four footed friends come to mind regarding barriers as a strategy. Install plastic  or woven-wire cylinders around trees and shrubs. Keep in mind that trees and shrubs grow in girth as well as height and you don't want to girdle your plants, or trap moisture next to the bark that will attract other problems than deer, so adjust the barrier products accordingly. Fencing options are a bit more involved. The North Carolina Wildlife Resources Commission provides detailed instructions. No matter how cute and Disney-like deer appear to be, live trapping and removal of them is not a practical way to control deer damage. It's more likely that Bambi may reward your effort with a few bruises or broken ribs.
Repellents can be part of a chemical management approach. They are often used intensively around orchards, gardens, ornamental plants and agronomic crops. New products continue to enter the market, but their effectiveness differs and success is defined in terms of damage reduction, not total eradication. Repellents generally rely on fear, pain, taste or conditioned avoidance to change behavior. Keep in mind that hungry deer are going to eat, so factors such as deer density, alternate food sources and changes in plant palatability enter into the equation for success.
There are some repellant alternatives to consider. Based on tests at the University of Georgia by Michael T. Mengak, Professor-Wildlife Specialist and Associate Dean of Outreach-Forest Resources, the application of the organic, slow release fertilizer Milorganite® has potential as a deer repellent for ornamental plants. Though the repellent did not eliminate deer damage, it reduced the overall impact. (Using Milorganite to Repel White-Tailed Deer from Perennials Circular 889-1).
Another tactic to consider is applying Pepper (Capsaicin 0.0002%) Spray every 2-3 weeks. Be sure to test a leaf with the spray prior to spraying the plant. The NC Agricultural Chemical Manual also recommends hanging small bars of soap from branches, using 20 pound-test fishing line using one bar per shrub or several per tree, replaced weekly. Aromatic soaps may be effective,  however, results may vary and deer may become accustomed to the smell. Putrefied egg solid products containing the fungicide Thiram should not be used to treat vegetables, fruits, or plant parts that are to be eaten. If used, apply on dry days, cleaning the sprayer immediately afterward. For any product used, always read and follow instructions carefully. Results will vary and applications may need to be repeated. Odor- or taste-based repellents can be less effective during cold temperatures
Get out into your garden and scout about. Assess environmental and biological factors such as the amount of alternative food sources or greater number of deer and plan accordingly.
Minda Daughtry is Horticulture Agent for North Carolina Cooperative Extension in Lee County.