Lee Regional Fair
It's almost that time again! The 2018 Lee Regional Fair will be held September 11–16, 2018, and will be here before you know it. If your groups/clubs are planning to participate this year by putting up an educational booth here is the information you need.
Please encourage your members to enter the individual categories as well.
Following are links to the 2018 Booth Registration Form, 2018 Educational Booth Rules and Regulations and the Judging Criteria and Categories. Please review the rules and complete the enclosed Booth Registration form and return this to me as soon as possible. Booths are assigned on a "first come, first serve basis". Every booth is eligible for prize money and there is no fee to enter.
 Be reminded that the educational exhibits must have an educational theme, are designed to teach the public in a matter of seconds, and should not be manned.
We look forward to a wonderful fair and to your participation again this year. If you have any questions, be sure to contact us.
2018 BOOTH RULES AND REGULATIONS
Criteria for Judging Educational Exhibits
---
Exhibit Entry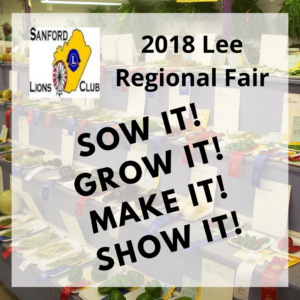 Online entry
is now open. Save time and enter all your exhibits between now and September 6. Shorter lines at the fair! You can still enter in person September 8 and 9, noon to 6 p.m. For Exhibit information contact Preston Sellers at 919-776-1385 or Glen Stubits at 919-777-4241.
Because/If you are registered in Lee County 4H with
4HOnline
you can sign in with your 4H online ID and password and select the green button.
Feel free to call me if you have any questions about this process.
Pam Kerley 919-775-5624