This Summer's Dust Storms: What Do They Mean for You?
Find this article at:
go.ncsu.edu/readext?706589
Written by Meredith Favre, NC State University Entomology Student, NCCE-Summer Intern
There is a lot of news swirling about the dust traveling from the Sahara Desert to the United States, so much so that it can be disorienting. This article's goal is to help you understand what these dust storms are, that they are part of a naturally-occurring annual pattern, and that they are not a cause for concern if we take precautions. In fact, dust storms are beneficial for our environment by contributing fertility to our oceans and soils.
What is a dust storm?
Dust storms occur when strong winds lift sand and other particles from dry, bare soil into the air. They are common in semi-arid to arid areas, such as deserts. Wind transports soil particles into the troposphere, the lowest layer of the Earth's atmosphere, where they are carried for varying lengths of time and distance based on size and weather conditions. The smallest particles can stay suspended for up to 10 days! The major sources of particles for these dust storms include regions in Northern Africa, Central Asia, China, and the Arabian Peninsula.
Do dust storms from the Sahara Desert normally spread across the globe?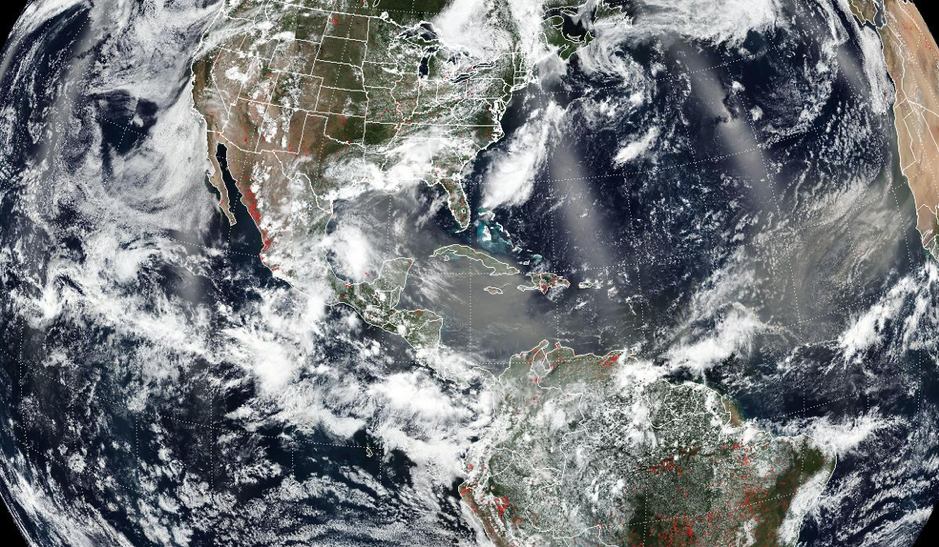 Figure 1. Composite image of the Saharan Dust plume, captured by the NASA/NOAA's Suomi NPP satellite on June 24, 2020. Photo credit: NASA/NOAA, Colin Seftor
Dust travelling from the Sahara to the United States is not an unusual occurrence; in fact, dust travels on an annual cycle across the Atlantic Ocean. In late spring to early fall, volumes of dusty air form over the Sahara Desert. This dusty air is known as the Saharan Air Layer (SAL) and is created in regular intervals, typically every three to five days. The SAL can reach heights of 5,000-20,000 feet and can be transported thousands of miles by the wind. Each year winds bring the SAL westward across the Atlantic Ocean, where particles are deposited in parts of North, Central, and South America.
The dust currently impacting parts of the U.S. is part of the SAL's regular travel across the Atlantic. What is different this year is the amount of dust, which is potentially the largest volume in 60 years. Its distribution is also over a wider area than usual. Dust could potentially reach as far as the U.S. Midwest.
Dust storms help reduce hurricane intensity and fertilize our oceans and soils
Although dust in the air does cause some concern regarding human health, there are silver linings. We are now in hurricane season (June 1st to November 30th in the Atlantic Basin) and the SAL's dense, dry air and increased wind shear could help reduce the intensity of storms hitting the subtropical Atlantic this year. The SAL also deposits nutrients, such as iron and phosphorus, which are essential for life in terrestrial and marine ecosystems. The SAL is important for nourishing the soils of the Amazon Rainforest, which acts as the lungs of our planet by sequestering huge amounts of carbon from our atmosphere. The Amazon is already predicted to struggle with the higher temperatures and reduced rainfall caused by climate change, and drenching tropical rains readily remove nutrients from the soil. Without the essential nutrients transported by the SAL, the rainforest would likely dieback at an accelerated rate.
What to expect and how to prepare for the SAL's arrival in the U.S.
What should you expect if dust is predicted in your area? You might notice hazy skies and orange dust on your car windshield. Air quality can be reduced if dust descends to ground level. Fine dust particles can irritate the eyes, nose, and throat and can aggravate allergies and respiratory illnesses such as asthma. If dust is predicted for your area, try to limit your exposure using these practices:
Watch the SAL's migration using your local news. If dust starts to settle in your area, limit your exposure by reducing outdoor activities.
If you must go outside, wear a face mask to minimize inhalation of dust particles (we need to wear them to slow the spread of COVID-19 anyways!)
Monitor your local air quality reports for reductions in air quality associated with the dust
Keep indoor air as clean as possible by keeping windows and doors closed. If you have air conditioning, keep the fresh-air intake closed.
If dust from the Sahara does visit your area, try to limit your time outside until it passes. Appreciate that it made a long trip to get here, and as it is passing through, it is nourishing our oceans, forests, and soils which allow us to grow our food.
For more information, contact North Carolina Cooperative Extension in Lee County at 919-775-5624.
References
Brooks, N., Chiapello, I., Lernia, S. D., Drake, N., Legrand, M., Moulin, C., & Prospero, J. (2005). The climate-environment-society nexus in the Sahara from prehistoric times to the present day. The Journal of North African Studies, 10(3-4), 253-292.
Meredith Favre is the 2020 Summer Intern for North Carolina Cooperative Extension in Lee County.