Fall Garden
Find this article at:
go.ncsu.edu/readext?614943
Heat lovers like tomatoes and eggplants are coming off the bushes in droves and it's time to begin thinking about that fall garden. Make the most of that carefully prepared garden bed space you made earlier this spring with bountiful fall produce . A plentiful harvest this fall actually starts this summer by sowing seeds and planting in the empty spaces left from where already harvested crops used to be. Many favorite cool-weather vegetables can be planted in August and September for harvest through fall and into winter.
When choosing what to include in your garden, remember your boundaries – not just the length and width of your available space, but the limits on your resources too, including your time, energy, nervous system and wallet. Grow only what you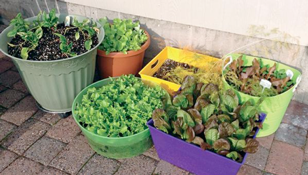 and your family like to eat. If radishes are not a favorite don't grow them, even if they grow well in a fall garden. When you decide on the flavors you'd like on your table and begin planning your fall garden, start by choosing disease-resistant varieties. (See resource boundaries above!)
If you only need a few plants or don't have space to start seedlings, you can purchase young plants in early September – just be sure to plant them soon after so they have time to mature before winter takes over.
Root crops don't usually transplant well so starting from seeds will the best method to grow turnips, beets, parsnips, carrots, rutabaga, kohlrabi, and yes – radishes.
Quality brand seeds will have growing information on the packets, so look before you purchase. Carefully read the seed packet info for what to expect. Use your average first frost date and each plant variety's "days to maturity" to pick the best time to sow seeds. The NC Climate Office developed the Climate Thresholds Tool to calculate the average first and last frost dates for your garden. Read more about the tool. You can also get a good general idea of about when to plant various vegetables in eastern NC from NC State University's publication on vegetable gardening.
Note that vegetables seeded in late summer are typically planted deeper than when seeded in spring – up to twice as deep because soils are warmer and drier. Seeds sown too close to the soil surface are prone to drying out, resulting in poor germination.
Water seeds and seedlings frequently, 1 to 2 times a day, to make sure they stay moist in high heat. Shade the soil with row cover or shade cloth, or elevate some boards on bricks over newly sown areas to help conserve water and cool the soil surface.
Another approach is container gardening. Container gardens do well in the cooler fall temperatures. They don't dry out as fast and can be moved inside if necessary. Starting heat-sensitive lettuces and spinaches indoors in the AC with "Salad Bowl" containers is a great way to get a head start. Other edible containers can be part of your landscaping with mixes of colorful kales, mustards, or lettuces paired with edible flowers like pansies and violas. Spikes of scallions or chives can be the thriller part of your "thriller, spiller and filler" combinations.
No fall vegetable garden has room for everything, but by choosing your favorites and giving them a good start, you will have plenty of fresh veggies for months to come. For more information about vegetables that work well in your area for fall planting, contact our office at 919-775-5624 or stop in at 2420 Tramway Road, Sanford, NC.
Minda Daughtry is Horticulture Agent for North Carolina Cooperative Extension in Lee County.