Growing Edibles in the Landscape
Find this article at:
go.ncsu.edu/readext?758987
Do you grow vegetables at your house? Are they stashed in the backyard? Some varieties of your favorite
produce are pretty enough to take center stage in your loveliest garden beds while providing fruits and vegetables through much of the year. If your family wants to try something new next season then it's time for Edible Landscaping!
Edible landscaping is the use of food-producing plants in the residential landscape. It combines fruit and nut trees, berry bushes, vegetables, herbs, edible flowers, along with ornamental plants into attractive, eye-catching designs. Combine a few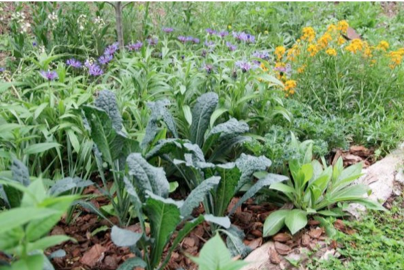 of them or feast harvesting levels with your existing plants. These productive gardens can offer beauty and function in the landscape, unique edible options for the table, and many other benefits.
By planting edible landscapes, gardeners can also enjoy more control over their food with a wide array of choices of species and varieties and update their landscapes at the same time. There are some basic design applications where edibles fit the bill nicely.
What you can do to enrich your landscape:
Plant dwarf evergreens and berry shrubs along north property edges to block cold winter wind and funnel summer breezes into the property.
Use deciduous vines on an arbor to allow dappled light in summer and full sunlight in winter.
Plant small, hardy fruit trees in the southwest corner of the garden
For success in all of your garden efforts, group plants with similar water needs together to keep it easy for you and your plants. Where is your water access? Place edibles with high demand for water in the accessible areas of the garden. Hauling water can be challenging and too easily ignored, resulting in plant failure. With efficiency in mind for both harvesting and pollination, plant fruit trees and shrubs in clusters. Plant tall vegetables on the north side of the bed and low-growing vegetables on the south side as well as place short plants on the south side of tall structures that could block needed sunlight. This will prevent unwanted shading, unless those plants that need shade can find a home there. Place vegetable and herb containers and hanging baskets near the kitchen entrance for a few quick snips to season the sauce.
Read more about site design and plant selection for both edible plants for year-round flowering and fruiting: Growing Edibles in the Landscape