Looking Out the Window – Baby It's Cold Outside!
Find this article at:
go.ncsu.edu/readext?755332
Here in North Carolina, especially in the Piedmont, we get four seasons to enjoy Nature's change of "clothes." While it still feels a bit like spring in the daytime, dropping to 28°F at night makes for a chilly morning. The kind of morning suited to looking out the window sipping a steaming cup of coffee and enjoying nature from a distance.
The concept of Four Season Landscaping really means having something of interest to focus on outside throughout the year. It's not that difficult to accomplish because what defines a garden is less what is grown in it, than how what grows is arranged. A garden landscape that delivers a sense of harmony is really effective at helping us reduce anxiety and depression levels because plants stimulate both a physiological and psychological relaxation response.
We can achieve that harmony by understanding a couple of key principles such as proportion sequence, balance, contrast, and repetition. At this time of year contrast from interesting colors and shapes of tree bark fits the bill, just looking out the window.
Colorful and distinctive bark and branches can be just as important to the garden as any flower or leaf, and it lasts far longer! From evergreens (which don't necessarily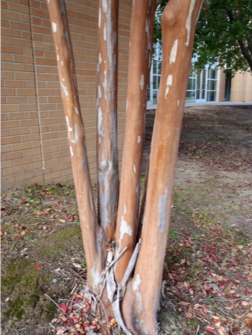 have to be green) to species with peeling bark, or patchwork camouflage, there are choices for every set of site conditions. Native species offer lots of additional benefits to the local ecosystem that co-evolved with them and can be successfully used in our garden landscapes.
If you've got space to fill, consider Ilex opaca, American Holly with Beech, Fagus grandiflora to fill the eye with masses of deep greens and brilliant coppers standing out among the stark silhouettes of the deciduous woodlands.  If your site tends to stay moist consider the native Betula nigra, River Birch with its white peeling bark. While the ubiquitous Crape Myrtles can be found almost everywhere you look, they come in multiple colors, shapes, and sizes from 3 ft dwarfs to over 20 ft tall. The Lagerstroemia, Crape Myrtle 'Natchez' stands out with its red peeling bark all year topped with masses of white blooms in the summer.
There are countless opportunities to turn the winter windowpane into nature's artwork frame. Take a look at the searchable plant database for more information on plants that fit your site and style. Click on the Design Gallery hyperlink for ideas or type in the characteristic that you're interested in into the search box. There are over 4000 plants with specifications in the database to help you find what works for your circumstances.
Minda Daughtry is the Horticulture Agent for North Carolina Cooperative Extension in Lee County.