Seasonal Gardening – Aesthetics and Interest All Year Long
Find this article at:
go.ncsu.edu/readext?736065
Flowers, Foliage, Form, and Fruit. Through Spring we think of the soft color palette that flowers bring to our gardens: pink hyacinths, creamy yellow daffodils, lavender crocus, and tulips of every color. Summer's colors shine from vibrant yellow and orange lantana to hot pink gladiolas, flaming orange canna lilies, red roses and to daylilies that mix and match all of the above. Fall flowers bring out more muted tones to summer's hot color splashes with festive red, orange, yellow, peach, and white chrysanthemums, multi-color pansies with blue and yellow faces – both pale and dark.
A comprehensive garden maximizes Fall color and bounty with berries, artfully taking the garden through the cooling autumn days and into winter. Shrubs that provide colorful fruit compliment the garden design while inviting the birds to come visit for a snack and to put on a show.
Winterberry Holly (Ilex verticillata) varieties bring a pop of bright red berries that appear just as the leaves are dropping in the fall. For beautiful berries the plants must be cross-pollinated. Be sure to match blooming times with a male pollinator like 'Jim Dandy' or 'Southern Gentleman' by planting one male (per 10-20 females) within 50 feet of female plants.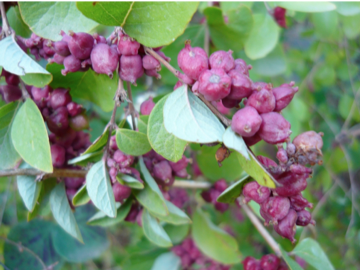 If you have more shade and a large space to fill, consider Coralberry (Symphoricarpos orbiculatus). Small, yellowish summer flowers turn into purplish-red fruit beginning in October. This is a great shrub for naturalized areas or an informal shrub border. Plant it on a slope for erosion control.
Choosing some focal shrubs and trees with interesting shapes rounds out the landscape with just the right touch of form to draw the eye in.
Serviceberry (Amelanchier alnifolia ) pruned as a small tree not only adds bright yellow foliage and deep blueberries in the fall but eye-catching, fragrant white flowers in the spring that can last for a month.
For maximum berry production prune them at the right time. Berries are the fruit that forms from pollinated flowers. Keep in mind that if the flowers are removed so go the following fruit. Typically, trees and shrubs that bloom early to mid-spring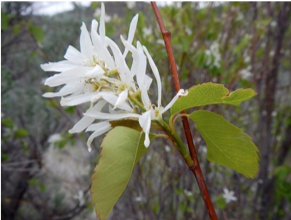 form their buds the previous year, so prune judiciously in late winter.
If their bloom time is in the late spring to summer, their buds formed that same year, so pruning in early spring before the new growth occurs will keep the flowers and thus fruit coming along. For specifics on how and when to prune which shrub, take a look at How to Prune Specific Plants.
Minda Daughtry is the Horticulture Agent for North Carolina Cooperative Extension in Lee County.