My Garden Has Changed Over
Find this article at:
go.ncsu.edu/readext?723099
My garden has changed over and is about to again. The greens have pretty much quit for the time being. Tomatoes, peppers, eggplant, cucumbers, okra, leeks, and green onions are still going strong. As I am harvesting and the plants are maturing, space is appearing that I'll need to put more crops into or the weeds will find a home.
So what's next? Succession crops to extend the harvest are on my mind. While the fall garden is still in it's planning stages I'm thinking of fall root crops like carrots and turnips, some more of my favorite Red Russian Kale, maybe bush beans and I'll squeeze in some more Red Giant mustard too. So good on a sandwich! I'll likely trade with some gardener friends for collards and cauliflower. Of course, there will be flowers like Calendula as well. Some of my choices are going to need a little extra boost so I'll revitalize my bed spaces with some more organic soil amendments to feed my soil so it can feed my plants that will feed my family.
Scheduling is key and knowing the frost-free date makes a big difference. The National Centers for Environmental Information (NCEI), an office within the National Oceanic and Atmospheric Administration (NOAA), prepares tables outlining the probable dates associated with the last frost, freeze, and hard freeze in spring and the first frost, freeze, and hard freeze in fall for locations across the United States. Here in Lee County, NC we are looking at an estimate of October 24 as Average First Frost Date, with April 14 as the estimated Average Last Frost Date. Read more: Average First and Last Frost Dates
Two things to put onto my shopping list – floating row covers and kaolin clay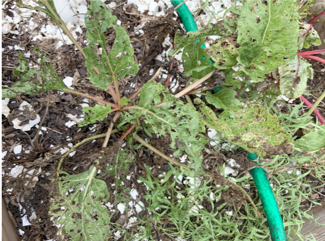 products! The flea beetles, those shiny black beetles that jump, really went to town on my greens this year, making so many tiny holes that the garden looked like I was growing green lace instead of plants.
There are many species of flea beetles, which are a distinctive subfamily of leaf beetles that feed on almost all vegetables to one degree or another. The adults of these voracious eaters overwinter in plant debris, so before I put the new soil in the fallen leaves, stems and dropped fruit has to come out and I'm tilling up the soil a bit. One of the earliest emerging insects, the adults emerge in late April to early May, mate, and lay eggs in soil. The larvae of many species feed below the soil on plant roots, while larvae of other species and all adults chew tiny holes in leaves, creating a shot-hole, green lace effect. Their name comes from the fact that adults jump away when disturbed, much like fleas. Populations are high after mild winters and they prefer hot, dry spring weather reproducing 1-2 generations a year.
For more information about vegetable gardens, planners, and pest control, contact your local Extension office.
Minda Daughtry is the Horticulture Agent for North Carolina Cooperative Extension in Lee County.