Houseplant Vacation Time
Find this article at:
go.ncsu.edu/readext?712962
Summertime is traditionally vacation time. While I'm not traveling much these days, I am enjoying the essence of what I'd want to go see anyway right from my home. Of course it's plants! Many houseplants we enjoy come from tropical locations and one unusual one is Callisia fragrans, otherwise known as the basket plant, or sometimes the inch plant.
Hardy in zone 10 and higher, its native range is Mexico and South Africa, but it's found in many tropical places, such as in the pacific islands where it has naturalized and can be found growing as a shady ground cover. It's classified as a perennial herb there with long fleshy branched stems, with long stolons at base that will quickly root in available soil hence the common name "inch plants" because of how they inch along the ground, rooting wherever their plantlets come into contact with soil.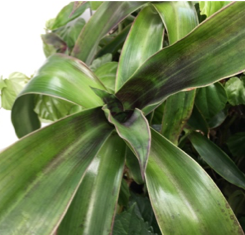 The foliage is an attractive whorl of dark green leaves resembling dracaena. It prefers fertile, moist soils in a protected, partial to fully shaded area which makes it an easy care, hanging-basket house plant. The more light it gets, the more purple the foliage will be up to a point. Too much light, can scorch it.
Callisia comes from the Greek word "kallos" for beauty. Callisia looks like a bromeliad and its growth habit resembles the a spider plant, but it is actually in the spiderwort family (think Tradescantias) and is just as simple to grow. Like the spider plant, Callisia sends out plantlets that can easily be clipped off and planted to propagate new plants to share with friends. Its foliage feels thick and lush, almost like a succulent. Water this unusual plant every 2-3 days. During the spring, summer and fall growing season, fertilize with a regular 10-10-10 or other balanced fertilizer monthly. Slow everything back down in the winter, so stop fertilizing then and water less frequently.
It takes a while for the plant to mature enough to bloom, and those blossoms are sporadic and short-lived. But true to its name "fragrans", dense flower clusters form on 3 to 4 feet spike-like wands producing a delicious fragrance .This plant is a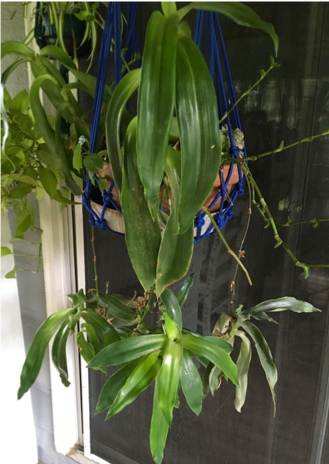 known in the folklore of its native habitat as a wonder herb with many medicinal properties for addressing problems such as burn, dental diseases, cancer diseases and arthritis. It is the subject of study for its phytochemical constituents and antimicrobial activity. For more information about it contact your local extension office.
Minda Daughtry is the Horticulture Agent for North Carolina Cooperative Extension in Lee County.