Strawberries Are In!
Find this article at:
go.ncsu.edu/readext?528158
You don't have to ride far in Lee County to see that it's strawberry season. Farmers have been working hard since last fall to insure that this year's crop will be a success. Despite the severe cold weather in the early months of 2018, this year's crop is looking good with plenty of berries!
One exciting fact about strawberries is that they are not just delicious, they are also nutritious. Strawberries are a delicious, nutritious, fat-free food. Based on one cup of strawberries, the nutrient values are as follows: protein 1.0 g, fat 0.6 g., carbohydrates 11.0 g, fiber 3.6 g, iron 0.6 mg, sodium 2 mg, calcium 22 mg, phosphate .30 mg, vitamin A 42 iu, vitamin C 90 mg, riboflavin 10 mg, potassium 262 mg, vitamin B6 92 mg, folacin 28 mg.
One serving of fresh strawberries (one cup or about 6-9 berries) contains only 50 calories and 140% of the RDA for Vitamin C, more than a medium orange. Vitamin C helps your body heal, resist infections, and maintain healthy bones, gums, and teeth.
Strawberries are a significant source of fiber in the diet. They are also a good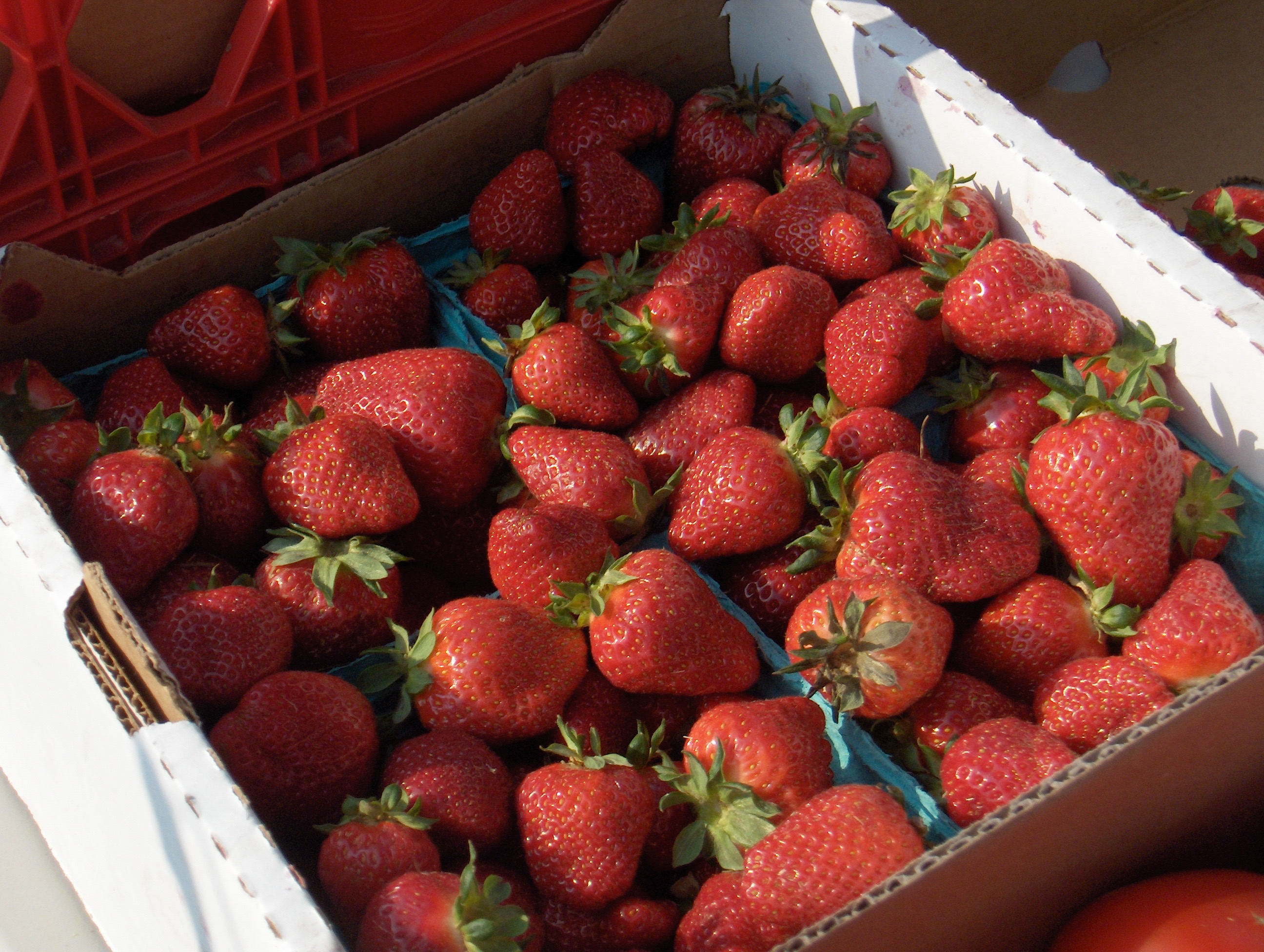 source of potassium and manganese. Strawberries are also rich in antioxidant compounds such as anthocyanin, quercetin, resveratrol, and ellagic acid. Studies indicate that these compounds found in strawberries may help reduce the risk of heart disease, cancer, hypertension, and Parkinson's disease and reduce some of the cognitive declines of aging. There is also evidence that strawberries have properties that may assist with weight loss and with diabetes control. Like other richly colored berries, they are truly a superfruit!
The best strawberries are the ones bought from our local strawberry fields -either already picked or pick-your-own. Farm-fresh strawberries are hours old with little or no handling and no traveling. Look for plump, bright red and fully ripe berries. Caps should be firmly attached green and fresh looking. The size of the strawberry is not important. The shape and size of a strawberry is largely dependent on its variety. All strawberries, large and small, are equally sweet and juicy when picked ripe. Frozen strawberries retain all the nutritional benefits of fresh strawberries. Often those you buy in the local grocery are picked green or pink and then allowed to turn red as they are shipped. The problem is that although they turn color, the flavor does not improve.
I encourage you to choose locally grown strawberries during the harvesting season; they will be the freshest and the most flavorful. When picking strawberries, try to pick early in the morning or later in the day when the fruit is cool. Strawberries are best used within 2-3 days of picking. Cover and store them unwashed in the refrigerator. Do not crowd or press.
Strawberries can be picked and purchased at local farms this season. Here is a list of area farmers who have fresh strawberries for the picking this spring:
Gross Farms on Pickett Road in Sanford
Gary Thomas Farms on Thomas Road in Sanford
Harrington Farms on San Lee Drive in Sanford
Logan Farms on Logan Farm Lane off N. Plank Rd. in Sanford
Barry's Strawberry Farm on Cox Mill Rd. in Sanford
McNeill Farms on Lemon Springs Road in Sanford
Whitehill Farms on South Plank Road near Cameron
GW Douglas on Highway 87 near Olivia and US 1 South near Tramway
Frankie Spivey on McCormick Road near Olivia
Also, look for strawberries at the Sanford Farmer's Market, open Saturdays from 9 a.m.-12 p.m. at the McSwain Extension Education and Agriculture Center. For information about growing, picking, or preserving strawberries, contact the Cooperative Extension Office at 775-5624. Happy Picking!
Minda Daughtry is Horticulture Agent for North Carolina Cooperative Extension in Lee County.